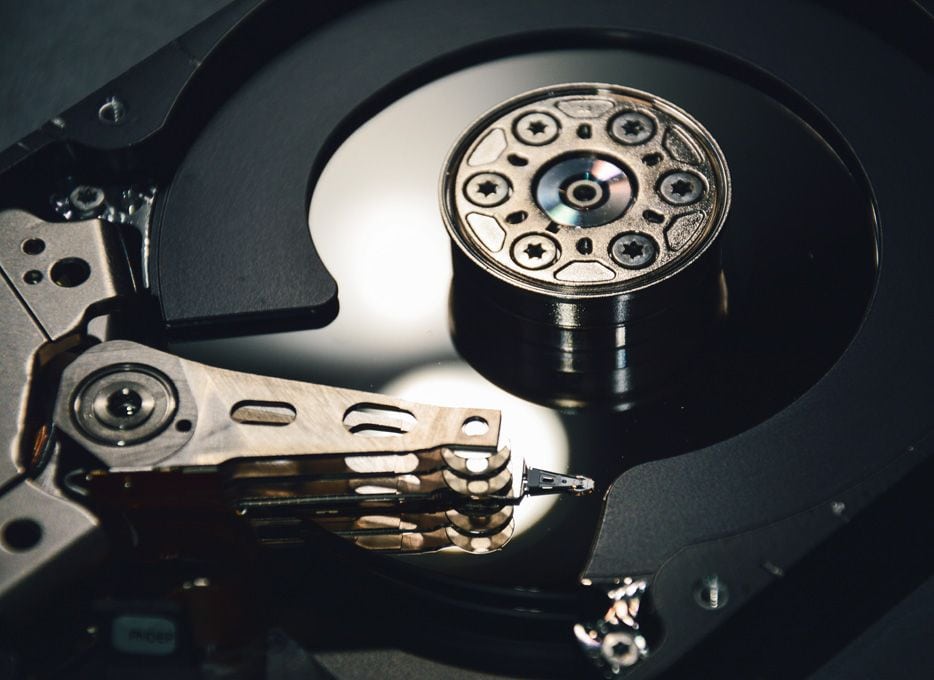 Top Data Recovery Apps for Mac
We're going to list the 2019 top data recovery apps for Mac that can help you undelete your important files if you delete some of them by accident, or you lost them due to some malware infection, accidental PC crashes, or some hardware failure.
Here you'll find a list of the top data recovery apps for Mac to recover deleted files and lost data from formatted, corrupt, and missing partitions quickly.
5 Top Data Recovery Apps for Mac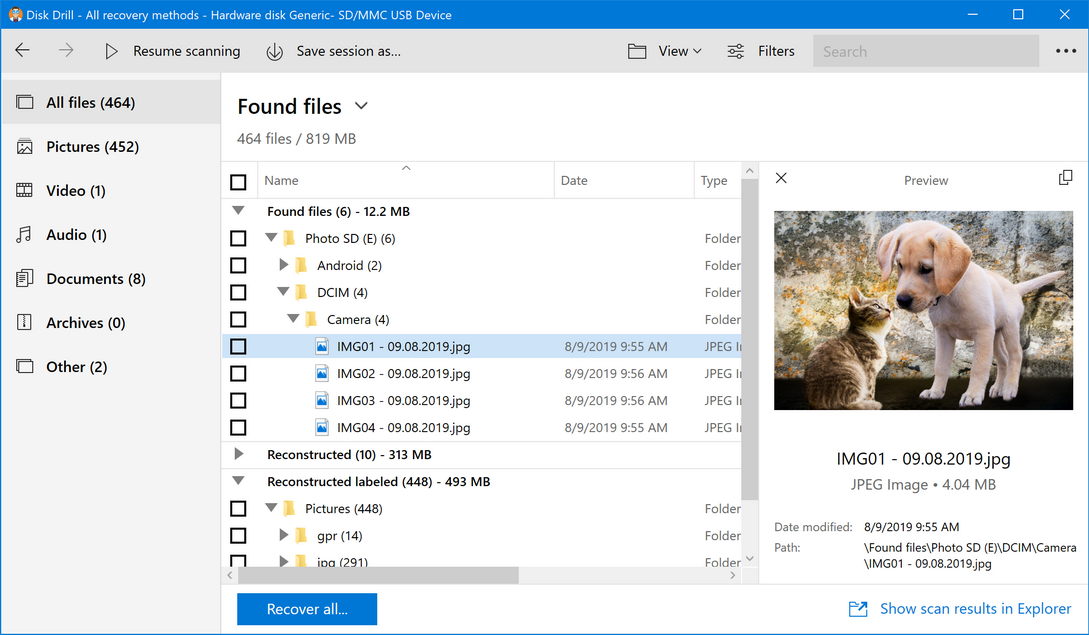 Disk Drill is an undeniable leader among data recovery software, you can recover up to 500MB of data for free with Disk Drill.
This is impressive and multi-platform software that provides complete data recovery solutions. Disk Drill Pro Data Recovery has an excellent ability to recover it without losing a bit of quality & originality.
Apart from HFS and HFS+, the other filesystems from which Disk Drill can recover are FAT16, FAT32, exFAT, NTFS, EXT3 and EXT4, making it a more complete solution compared to other data recovery tools in the market.
Disk Drill is not only free and comprehensive, but also the best buy data recovery software. It has been confirmed by plentiful independent reviewers on the Internet and printed publications.
Its powerful scanners scan for lost data and scavenge recoverable files from any accessible media including hard drives, both internal and external, memory cards, USB drives and more.
CleverFiles has licenses for both individual and commercial consumers. The software has versions for Mac or Windows.
Free version:
Disk Drill recovery software is available in several editions. The Basic package enables users to preview files that are recoverable as well as recover previously protected data. The free package cannot recover files.
Pro version:
The PRO version provides full functionality, allowing a user to recover files on various media without any restrictions. The commercial package is called Enterprise and it comes with a license with extended features and permissions such as enabling multiple simultaneous users to run the data recovery software as a commercial service.
Strengths:
Very comprehensive file and partition recovery with variety of options
Complete support for HFS, HFS+, FAT16, FAT32, NTFS, EXT3 and EXT4
Easy to use UI
Data recovery is effective as verified in our tests
Ability to protect your OSX drive from data loss by using snapshotting (Recovery Vault) and multiple copies of files (Guaranteed Recovery)
Ability to view disk usage
Ability to backup drives into DMG files
Will recover files off of an iOS device directly attached to your Mac.
Weaknesses:
Unintuitive filetype selection UI
Mixed recovery results depending on file
No preferences/settings to choose from
Limited contact options
Cannot recover files with the free download.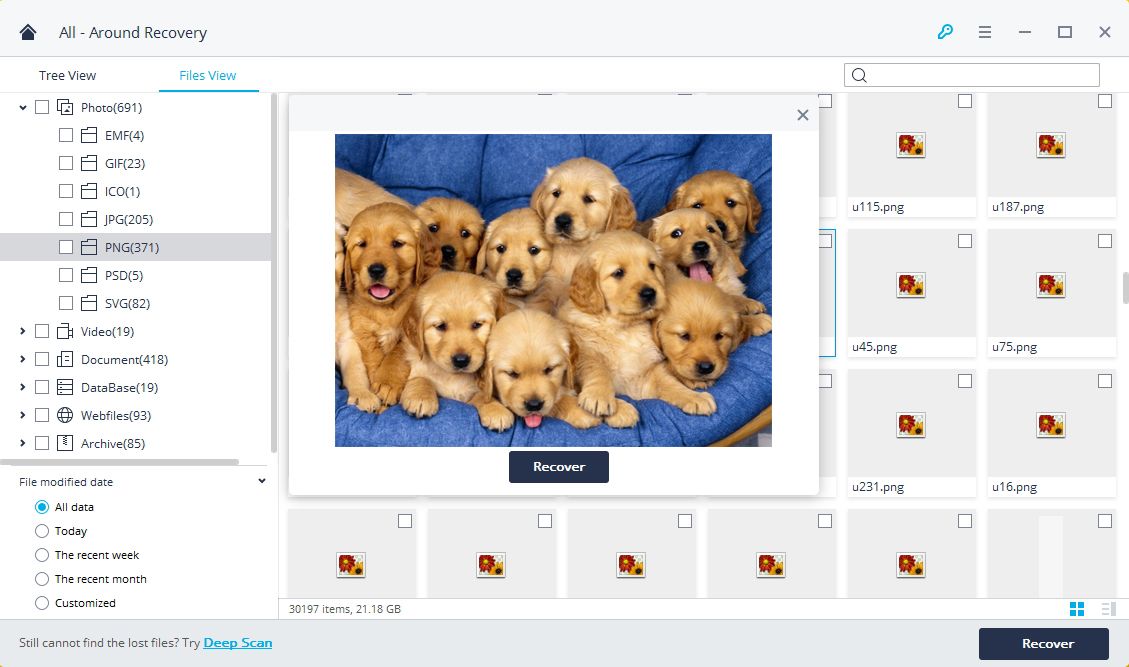 Photo credit: Wondershare
Recoverit support "Deleted File Recovery", "Partition Recovery" and "RAW Hard Drive Recovery" and other recovery modes that lets you recover lost data due to deletion, formatting, partitioning, virus attack, system crash.
It also retrieves your data from all data loss scenarios, including emptied recycle bin, accidental deletion, disk formatting, partition loss, external device corruption, virus attack, system crash, bootable problem.
Wondershare Recoverit is a great recovery tool to have. It offers targeted recovery options and supports almost all the file types and devices. It comes with a neat design and an easy to use UI.
Free version:
The free version is available. You can recover 100 MB file and it recovers all file types.
Pro version:
There are two The PRO versions available – $39.95 and $59.95. The first one provides option to recover all Documents, Images, Audio & Video Files, Emails, Archive Files – up to 550 file types are supported. The second provide option to recover data even though the pc crashes or unable to boot and remote diagnose and technical support.
Strengths:
It is powerful when recovering files
It has deep scan feature and preview feature.
It allows you save scanned results
It is easy to use
Weaknesses:
Scanning files takes time
The free version has limitations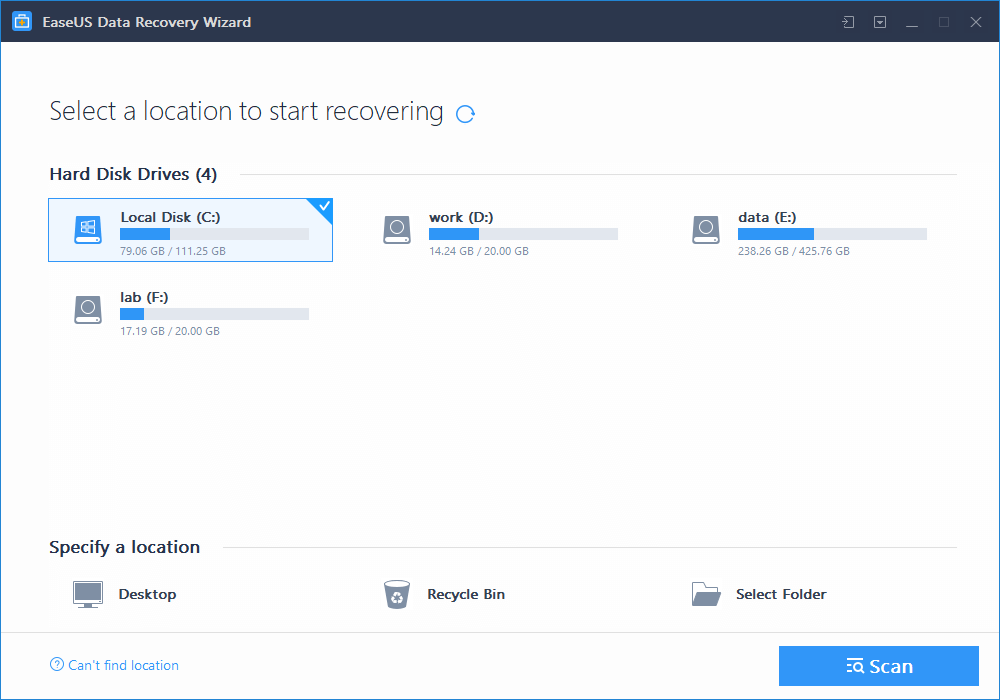 Photo credit: EaseUS Data Recovery
EaseUS Data Recovery performs a reasonably good recovery process. The app supports lost partition recovery and RAW drive recovery with Deep Scan from various storage devices formatted as FAT32, exFAT, NTFS, EXT2/EXT3, HFS+, and ReFS.
EaseUS has various functionalities like accidentally deleted file recovery, formatted recovery, virus attack recovery, hard drive damage, recycle bin empty data recovery, OS crash recovery, lost partition recovery, and RAW Partition recovery. You can restore lost files, photos, and videos in a variety of file formats with this data recovery application.
Devices Supported
Windows
Android
iPhone/iPad
Mac
Free version:
EaseUS is free to try through a no-expiry trial, but you'll be limited to only recovering a total of 1GB of data before you have to pay for a full license.
Pro version:
EaseUS Pro version is $69.95, when a $99.90 Pro + WinPE version, which creates a bootable USB drive that you can use to recover files when you can't boot your system at all.
And there's the Technician level subscription which is $499, but this is only if you run your business with the help of a data recovery suite.
Strengths:
Good results in both quick scan and deep scan tests
File preview option
Free trial
30-day money back guarantee
Numerous customer support options
Weaknesses:
Limited number of settings/options to configure
Automatic scan selection prevents fine tuning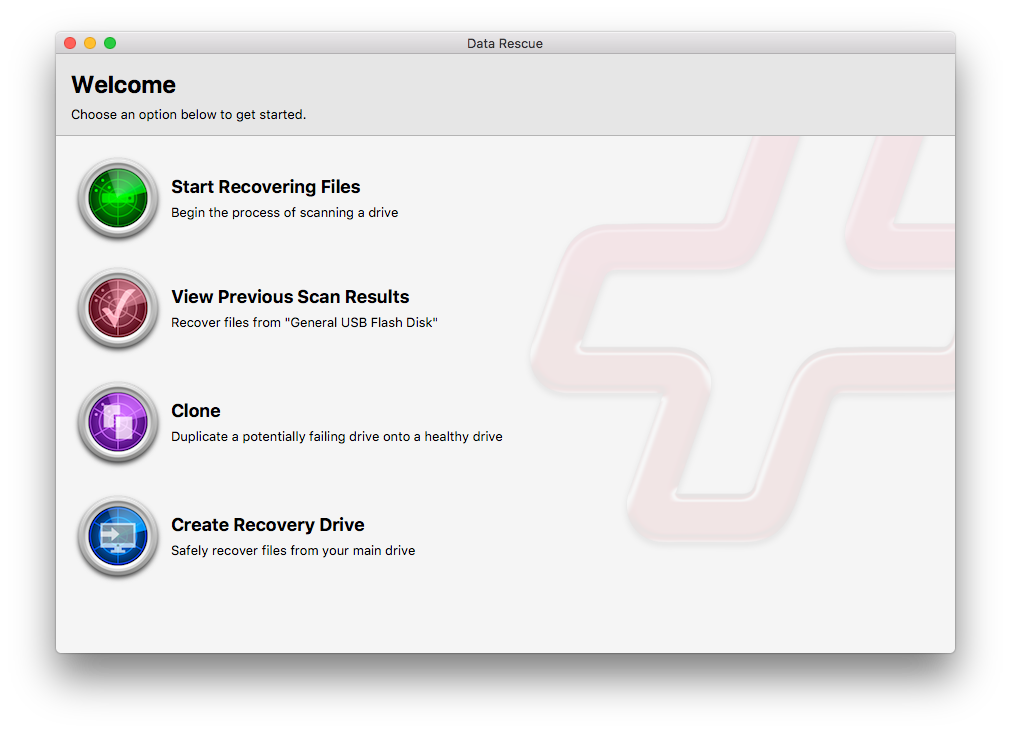 Data Rescue 5 for Mac is a data recovery tool for the Mac OS X 10.10 or later. It can recover data from your hard drives or external drives, SD cards, and solid-state drives.
Data Rescue is designed, developed and tested in a professional Data Recovery Lab to ensure that it works in real-world cases like yours. No other competitor can claim such an advantage.
Data Rescue supports any file type, as long as it is able to be found in an HFS/NTFS catalog. It has modernized the file-preview capabilities, added new file types to the recovery library, and so much more.
The new design, features, and functionality make Data Rescue the most comprehensive and robust Mac data recovery software and one of the top data recovery apps for Mac.
Free version:
You can download the demo version and use that to scan your computer to determine if your files are recoverable.
Pro version:
The PRO version provides full functionality, allowing a user to recover files on various media without any restrictions. The price is $99 and it allows use on up to 5 drives and unlimited recoveries.
The commercial package comes with a price of $299 and with a license with extended features and permissions such as enabling multiple simultaneous users.
They can run the data recovery software as a commercial service and use on unlimited devices and unlimited recoveries.
Strengths:
Free version for previewing potential file recovery
Email notifications
Duplicate file recognition to save recovery space
Time Machine Compatibility
Weaknesses:
More expensive than some alternatives
The speed of scanning for lost files is relatively low
It doesn"t offer the ability to pause and resume scanning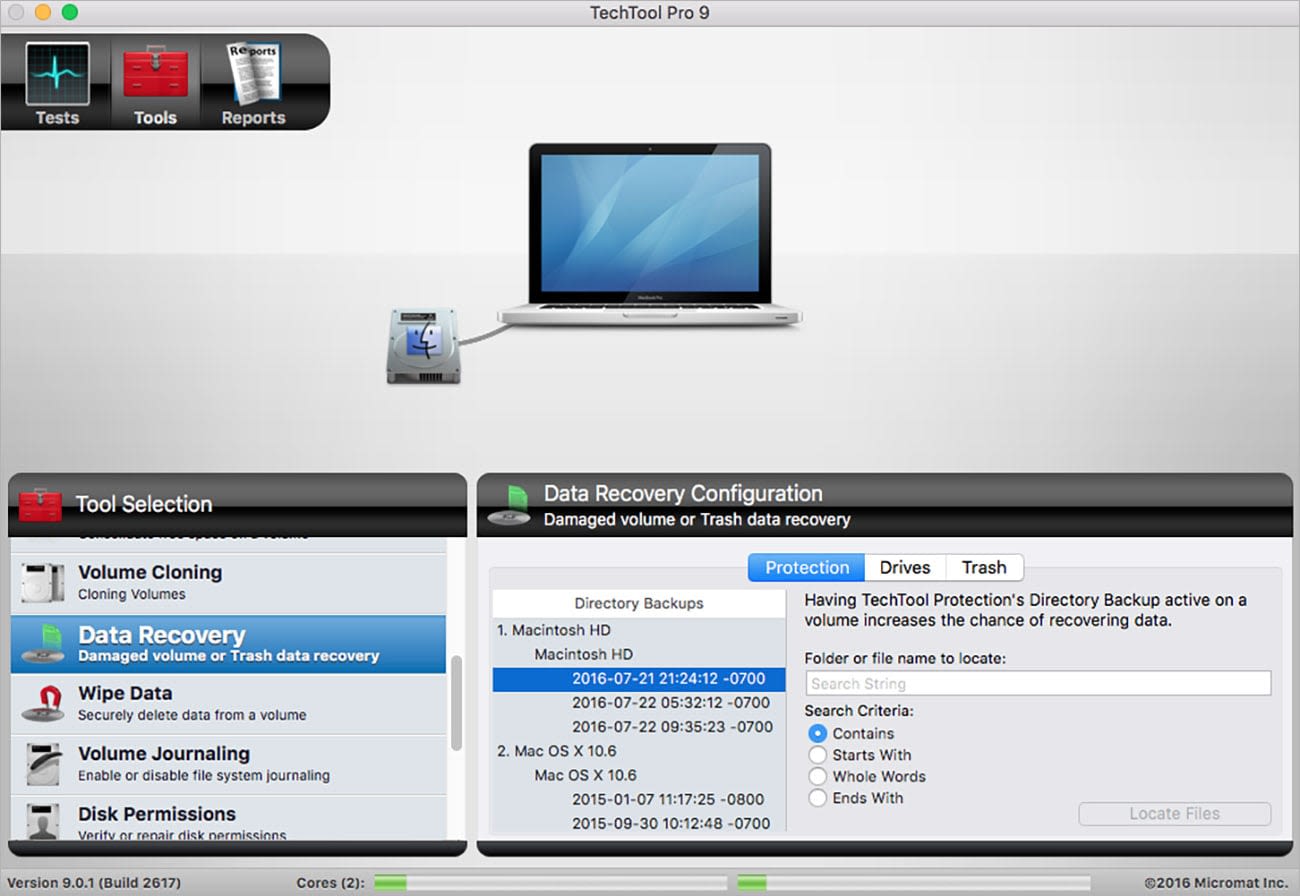 Photo credit: TechTool Pro
TechTool Pro is a tool designed to allow a user to test and repair a number of problematic conditions that you may experience with your Mac.
With this tool you can perform drive testing and repair, monitor your network and connectivity, and conduct memory tests. Some of the other features enable you to perform file and volume optimization as well as to completely test your Mac's hardware.
Along with Volume Rebuild, which repairs Mac file systems, the Partition Repair tool repairs the remaining portions of the drive which keeps track of the volumes on your hard drive.
To ensure your Mac stays optimized and trouble-free, make sure you use TechTool Pro regularly and keep your Mac running at peak performance.
Pro version:
Techtool Pro costs $129.99 when a $99.90 and offers many features like Partition Map, SMART Check, Processor Benchmark, Network Interfaces, Memory Test and more.
Strengths:
Can recover deleted APFS files
Offers many features beyond that of data recovery
SMART drive check to alert you of potential drive failures
Weaknesses:
Required to purchase additional licenses for application upgrades
Can be difficult to control startup parameters
Some reports of issues with the eDrive creation feature
Your computer's hard drive can experience physical or logical damage causing files to disappear. Operating system or software application upgrades can also result in inadvertently lost or deleted files.
If you experience deleted or lost files you will need to use some file recovery software for Mac. The key is not to panic and to stop using the drive where you will be attempting a data recovery as soon as possible.
If you found this article useful, check out related iTechFixes articles, including these: