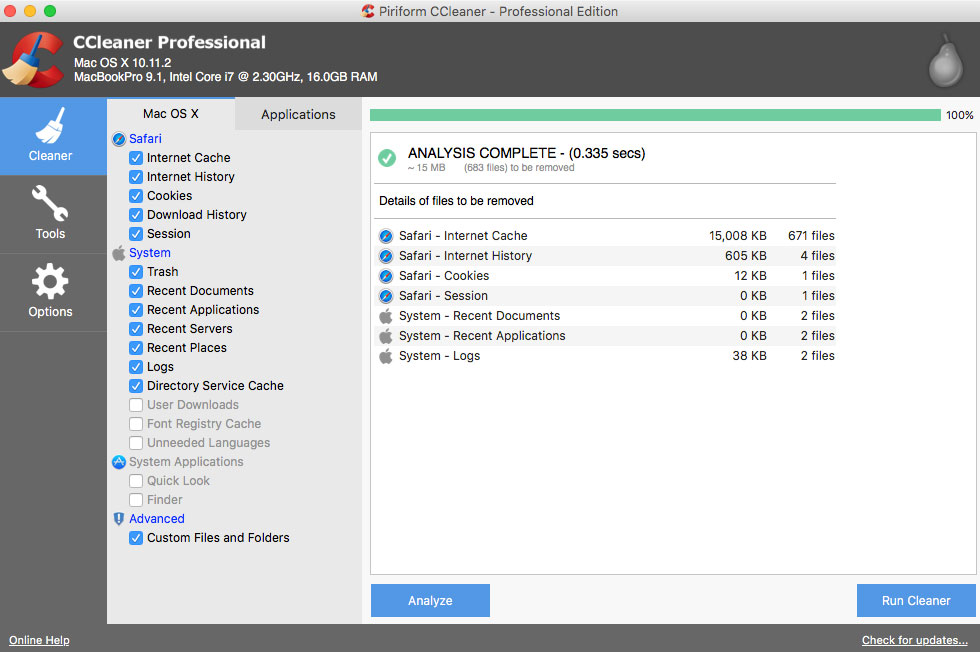 What is CCleaner and is It Good?
CCleaner was created by Piriform and it is a utility cleaning program. It is designed to deal with various issues related to unwanted files and was initially released for Windows OS back in 2003 and then latter it got first version for macOS in 2011.
Outdated apps are a security risk. Old software can have vulnerabilities, which are quickly discovered and shared amongst cyber criminals. CCleaner updates your software automatically to close security holes before they can be found.
There a few main things we want to highlight:
We've never had CCleaner cause a problem in the Windows Registry, which other registry repair tools do.
It has a free and paid version
It is available in a portable format, which means you can put it on your flash drive and care it with you.
CCleaner works with 32-bit and 64-bit versions of Windows 10, Windows 8/8.1, Windows 7, Windows Vista, and Windows XP.
CCleaner is the number-one tool for cleaning your PC.
It protects your privacy and makes your computer faster and more secure!
CCleaner clears your system of unnecessary files, often identifying and removing several gigabytes, and can deliver a noticeable boost in performance.
Pitiform's utility app mainly focuses on dealing with issues caused by temporary files like corrupted cache, permission errors, etc.
CCleaner's key cleanup features are:
Remove unused registry entries, file extensions, ActiveX controls, ClassIDs, progIDs, uninstallers, shared DLLs, fonts, help files, application paths, icons, and invalid shortcuts. This really helps with issues installing a new version of a previously installed program.
A browser cleaner, which can remove temporary internet files, history, cookies, download history and form history.
Clears the Recycle Bin, recent documents, temporary files, log files, DNS cache, error reporting, memory dumps. Be careful when usign is to not choose something you do not know what the effect of it will be.
Using Tools section you can do things like uninstall apps, manage services that start when your computer boots up, and erase free space.
The important thing to know is, that there is always a small risk of the tool removing something that it shouldn't have.
How to Uninstall if from Your computer
If you are looking to remove the program entirely from your Mac — here is how to do it. Uninstalling Piriform's cleaning tool is pretty simple on Windows and Mac computers.
On Windows machine you can just uninstall it from the 'Apps and Features' panel
For a Mac machines just follow these steps:
Quit CCleaner if you have it running. Use Activity Monitor if you have to.
Head over to Finder>Applications and drag CCleaner app to Trash
While in Finder, hit Shift+cmd+G, then copy and paste the lines below to go to the following directories:

~/Library/Application Support/CCleaner
~/Library/Preferences/com.piriform.ccleaner.plist

Remove all files related to CCleaner or Piriform.

Go to Trash and click Empty Trash
If you are interested in Piriform's CCleaner you can download it for free from their website. At the price of $30 you can upgrade to Pro which will unlock 'Professional' features that offer automatic cleaning, updating, and support priority.
Overall this program is simple and free to use. It is great troubleshooting step when faced with a "missing file" or "cannot find a file" sort of errors, especially for Windows based computers. It also features that let's you clean cache and uninstall apps from a single interface, however if you are looking for something more advanced capable of improving your performance, then Piriform's tool is not the app.