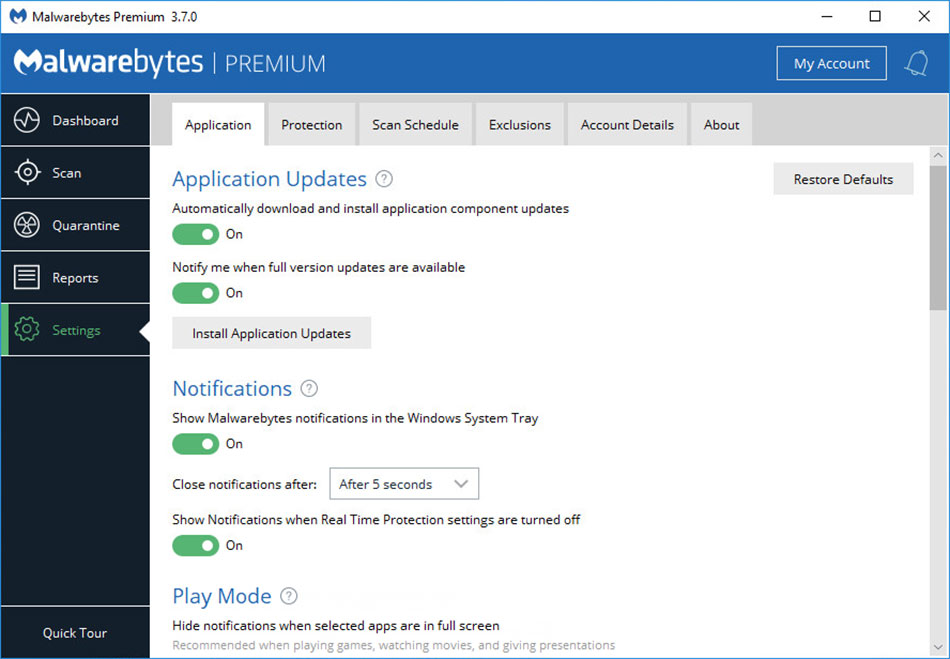 Malwarebytes Free & Premium: Is Malwarebytes Any Good?
Malwarebytes was founded in 2008, by Marcin Kleczynski and Bruce Harrison. Kleczynski informally started the company while he was living at home with his parents in Chicago in 2004 after the family computer got a virus. The Californian company now the company has grown to five locations around the world and over 500 employees.
Malwarebytes Anti-Malware is a hugely popular free tool which specialized in removing adware, spyware and ransomeware.
Malwarebytes lets you download and install the premium version with all the functionality for a 14-day free trial. After that, it can only be used to clean infected devices until you purchase the product, but that 14-day trial will let you see what the product can do.
In today's world, new online threats emerge every single day, it is crusial for the user to stay protected. With Malwarebytes Premium, you will get protection against malware, ransomware attacks, automatic updates, and safe browsing. None of these features are available with the free edition. It is a good idea to download it to your device and use it with the primary antivirus tool.
Malwarebytes remove malware and adds more layers of protection
Malwarebytes Anti-Malware (MBAM) is available to you with a free download. While the majority of anti-virus software is legitimately helpful and effective, some rogue anti-virus software out there can be just as devastating as the viruses they claim to counteract.
Some of the other important features available with Malwarebytes  Anti-Malware include support for Windows 2000, XP and Vista operating systems, fast scanning, full scans for all of your drives and updates to your database that are released at least once every two days.
We highly recommend using it alongside Kaspersky, Avast, or any other industry-leading "traditional" antivirus, since Malwarebytes Premium product works best with another antivirus software.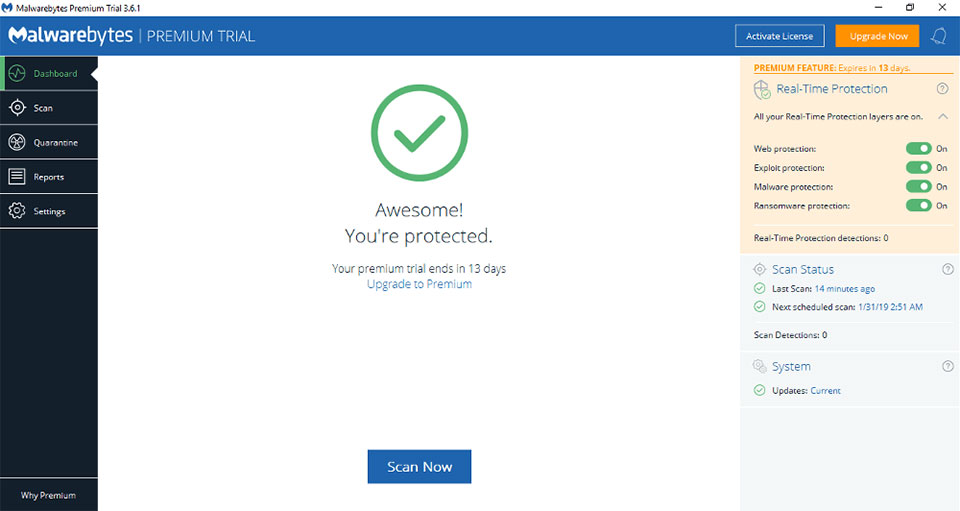 Malwarebytes has a well-designed and intuitive dashboard, ease of use. A column down the left side of the screen has "scan," "quarantine," "reports" and "settings" categories.
"Protection" has settings for web protection, a button for managing the protected applications list and options to add applications to it. There's also an advanced settings button that brings up a sub-menu for anti-exploit settings for many applications, such as memory protection, application behavior and Java protection.
Malwarebytes Free & Premium highlights
Can work with other antivirus products
Detect and quickly remove malicious threats to your computer
System impact is well below average
Compatible with Windows, Mac, iOS, Android, and Chromebook
Offers a decent free edition
Lightning-fast scans
Malwarebytes Software: Pros and Cons
Excellent at eliminating cutting-edge threats
Decent anti-ransomware and anti-exploit protection
Straightforward, easy to install and to use
Available as a free product
Scans are fast and thorough
Light system impact
Browser extensions are separate
No parental controls
No real-time protection with Malwarebytes Free
Only effective when used alongside more traditional antiviruses
The product claims to use AI-powered anomaly detection, behavior monitoring and application hardening to 'protect you from threats that traditional antivirus isn't smart enough to stop.'
Installing it gets you a 14-day trial of the Premium version with full real-time protection. After that it falls back to a free edition with on-demand malware, spyware and rootkit detection only.
Malwarebytes Premium is priced at $39 for a single computer (Windows, Mac, Android Chrome OS), one-year license, which is reasonable for a quality antivirus.
Malwarebytes doesn't offer webcam protection as Kaspersky Anti-Virus does. It didn't even quiz us about the built-in camera on our laptop. A lack of a password manager and a lack of online backup.
If you found this article useful, check out related iTechFixes articles, including these: